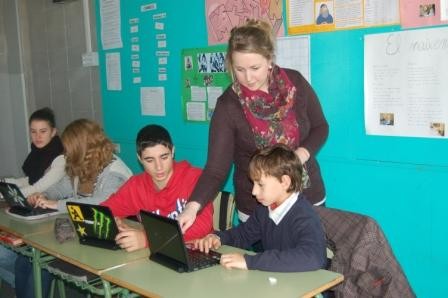 Rebecca is a student from England. She came to our High School Vil·la Romana as a language assistant to help us to speak English better. During the first term Rebecca came to our English class once a week, and she went with a little group of students (2-4) in another class. Then, we did some different activities and spoke in English with her. That was an interesting experience, and we liked it so much.
On the second term we have a subject called "ALL ROADS LEAD ROME". We're learning things about the ancient Rome in English. Now we're doing a PowerPoint, and preparing an oral presentation about the constructions in the ancient Rome.
Rebecca is helping us to speak better. We're going with her in small groups and she is checking all the sentences to have a better pronunciation and start to talk with English people.
We think that studying with her is a very good idea, because she checks all the English problems we have, and talking with her is fun because she tells us her experiences or funny thinks, but all in English!!!! And talking Catalan with her is impossible and she binds us to speak in English.
Xènia Cubí i Cristina Sandoval 2nd ESO A - Roger Morató i Jaume Boix 2nd ESO D