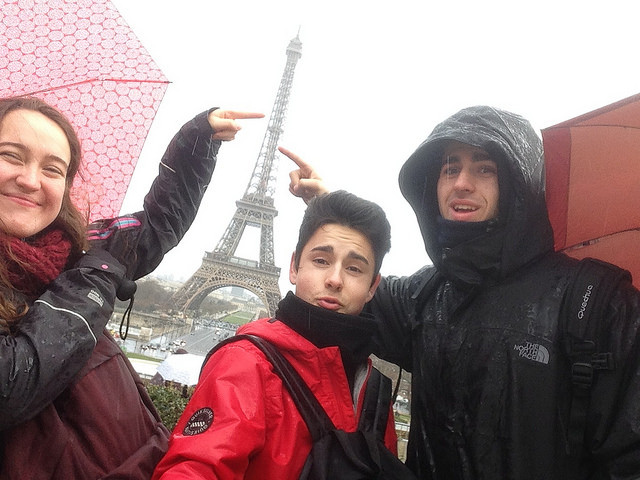 A DREAM COME TRUE
Last week we went to Paris for five days. It was an unforgettable experience, where we shared a lot of moments together.
The best moment in Paris was on the first day. I had always wanted to go up the Eiffel Tower because when I was young I dreamed I went stairs up the Tower, and I've always wanted to accomplish it.
Although I was very tired because on that day I had slept only one hour and we had walked a lot, I went upstairs and took a lot of photos.
It was such an incredible moment that I will never forget it. If I was there right now, I would enjoy it the same way I did it last week.
All the Paris travel was a great experience and all the landmarks were incredible; but if I had to choose one of them, there's no doubt that it would be my climbing of the Eiffel Tower. 
PARIS WILL ALWAYS REMAIN
There aren't so many opportunities to have a good time with classmates. Everyone has a lot of things to do and hard dedication in school's work is required.
However, an opportunity arrived last week. We went to Paris from Tuesday to Saturday. It was an amazing experience because we could visit museums and beautiful and emblematic places of the city. We were allowed to spend some time in groups, in order to discover the city by ourselves. We learnt extraordinary things about the city's history and we had the pleasure to see some important paintings, which may appear in selectivitat.
I strongly believe that it was an enriching experience to have and everyone is going to remember the journey as a fantastic thing.
As it is said, Paris will always remain. Laura Garriga Sagalés
A PLACE TO REMEMBER
Paris is known as the love city where a lot of people hang a padlock in a bridge and then they throw the keys in the Seine River. Paris is also huge, beautiful city with a lot of interesting landmarks and museums to visit.
In my view the place is not important at all if you are with your friends. You may have visited a lot of places but the one you liked most tend to be the one you have least imagined. For me the zone which I liked the most in Paris were the Gardens of Luxembourg, a fantastic natural area in the centre of the city where we were in contact with nature and birds. And an important thing, everybody was happy, I have never seen all my classmates as relaxed as on that break time. There was a good atmosphere so we decided to talk about a topic which was proposed by our philosophy teacher. It was about humanity but finally we talked about our self-esteem feelings.
So, this reflexion time made me think a lot about my life with lovely people. You may think that it's not a particular or an interesting moment in Paris, but for me it was special because we talked about things which we often keep to hide from others. Itziar López-Astillero
PARIS
One week ago I was in Paris, the city of love and the centre of art. At the beginning I thought that the journey would be a normal journey with the school, but as days went by I discovered that Paris is a beautiful city and the next journey I would do is to Paris.
One of the best things of the journey was that I have become a closer friend of some people because I spent most of the time with them. Furthermore, we extremely enjoyed their company.
The places we visited during the journey impressed me a lot, because I have always seen them just in pictures.
Among all the landmarks we have seen there, the Arch of Triumph fascinated me more because of its greatness. The landscape and the views we could see above the arch were also beautiful.
To sum up, Paris is one of the favourites places I have ever been to, and it will be the next place I would travel to. Carla Espinosa