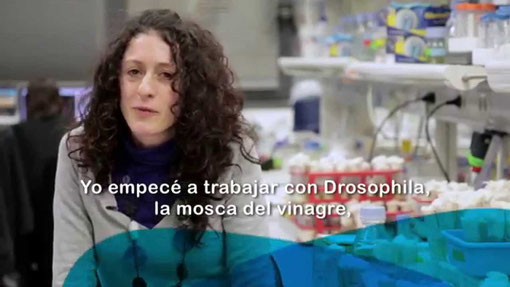 Desenvolupament del sistema traqueal en Drosophila
En aquesta xerrada, la Marta ens va  explicar com té lloc la formació dels sistema respiratori de Drosophila. Aquest insecte és un animal model, i com a tal molts dels mecanismes que intervenen en els seus processos biològics,  són molt útils en biomedicina ja que són semblants a alguns que es donen en humans. Per exemple, conèixer els mecanismes implicats en el  procés de formació de les tràquees en embrions és una base important per conèixer aspectes del desenvolupament d'alguns càncers, i alhora permet avançar en la recerca sobre fàrmacs que permetin aturar l'expansió d'un càncer. 
Setmana de la Ciència (14-18th November)
Marta Llimargas' Speech (Fri, 18th)
GENETIC INVESTIGATION
Studying the human body, its systems and all the characteristics, like cells, is very difficult in real human bodies. That's the reason why animals are used to study our body. One of the more popular animals to do this is the Drosophila Fly; it has been used for more than 100 years. However, other animals, like the mouse or the zebra fish, have been used too.
This type of fly has similar ramifications in its trachea to the human ones. For this reason Marta Llimargas and her team could investigate the movements and characteristics of the cells which form this part of the body and the DNA's genes despite the fact that they aren't studying a human body.
Finally Marta told us some steps we should follow to arrive where she is now. She told us that even if the process to arrive there is difficult, when you discover what you have been searching for so long is very gratifying. 
L.M. (2nd Bat A)
Desenvolupament embrionari Drosophila